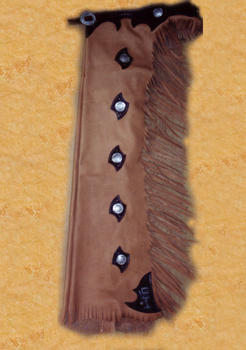 Cutting & Reining Chaps
Cutting, Reining, Show and Reined Cowhorse are unique diciplines with individuals who have specific requirements for material, look and fit. I have been building chaps for 20 years and can accomodate any need.
Options include:
zippers or 5 buckles on leg
suade or chap leather
Colors
tooled belt pieces
tooled leg pieces
tooled bottom leg pieces
4",6", or 8" fringe
cuff width
hair-on, embroidered, beaded underlay
nickle spots
rawhide applique
loop braided fringe
silver buckles and /or conchos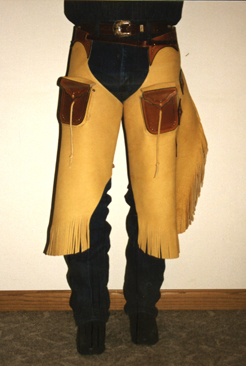 Working Chaps and Chinks
Working chaps and chinks can be made from leather that is as light or heavy and each person would like.
Typically working chaps and chinks are fairly plain but I am happy to incororate brands or initials into the belt pieces.
Zippers or buckles can be used on the legs depending on preference and pockets can be incorporated into the legs, either up on the thigh or down lower on the outside of the leg.