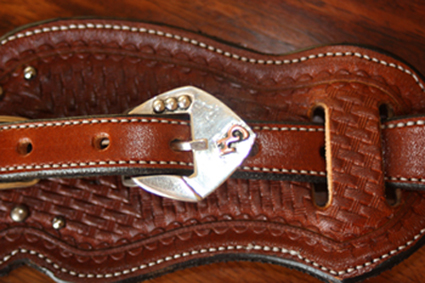 I hand craft all of the cowboy gear especially for the individual out of the highest quality Herman Oak leather. Many different styles saddle pockets, spur straps, belts, leather bracelets, check book covers are available.
Rawhide applique, nickle spots, embroidered underlays, hair-on underlays, beaded underlays, silver buckles and conchos can be selected to personalize your piece.
You can choose floral patterns, full basket stamp and herring-bone basket stamp patterns, floral and basket stamp combinations, or simple but classic border stamp patterns as well as carved initials, brands or sillouettes to have a one-of-a-kind piece that fits your needs and personallity.